Medical Supply Disposable Stomach Tube Nasogastric Feending Tube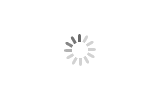 Medical Supply Disposable Stomach Tube Nasogastric Feending Tube
Fushan or OEM

China

35 working days after deposit

8000pcs/month

7days
A stomach tube is a medical device used to provide nutrition to people who cannot obtain nutrition by mouth, are unable to swallow safely, or need nutritional supplementation. The state of being fed by a stomach tube is called gavage, enteral feeding or tube feeding. Placement may be temporary for the treatment of acute conditions or lifelong in the case of chronic disabilities. A variety of stomach tubes are used in medical practice. They are usually made of polyurethane(PU) or silicone or polyvinyl chloride(PVC).
Stomach Tube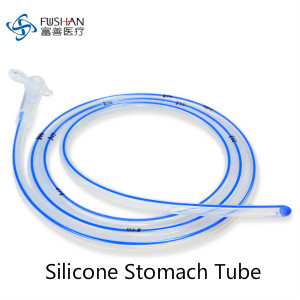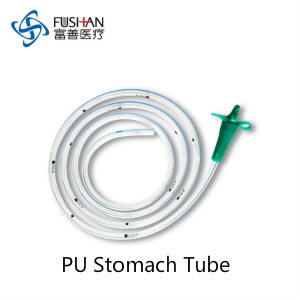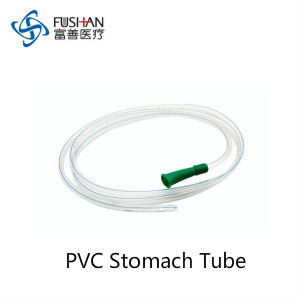 Silicone Stomach Tube
PU Stomach Tube
PVC Stomach Tube
Product NO.
Size(Fr)
Length(mm)
Product NO.
Size(Fr)
Length(mm)
Product NO.
Size(Fr)
Length(mm)
ST08S
8
700
ST08T
8
900
/
/
/
ST10S
10
ST10T
10
ST10P
10
1200
ST12S
12
1200
ST12T
12
1250
ST12P
12
ST14S
14
ST14T
14
ST14P
14
ST16S
16
ST16T
16
ST16P
16
ST18S
18
ST18T
18
ST18P
18
/
/
/
ST20T
20
ST20P
20
Silicone Nasogastric Tube / Feeding Tube Size: 5FR、6.5FR、8FR.
Product Features:
1. Different medical grade material for choice: silicone, PU and PVC.
2. No fiber and crumbs will drop during surgery, no re-infection.
3. Super liquid absorption ability and the absorption is 7-9 times its weight.
4. Convenient to place and take out and can be easily cut accordingly.
5. With CE, ISO13485 certificate approved.
6. Free samples are available.
Product Use:
Disposable aseptic gastric tube is mainly used for clinical emergency and critical patients to infuse liquid medicine, drink or flush into the stomach through oral cavity, and suck out liquid and gas.
Fushan stomach tube meets the market demand, can provide a variety of different materials, high quality products, reliable service.